Renew Life
Renew Life - Norwegian Gold Critical Omega - Fish Oil Softgels
Regular price
$26.99
$0.00
Unit price
per
Description:
Norwegian Gold Critical Omega is the perfect once daily fish oil for the maintenance of good health. It also supports cognitive and eye health. Like all Norwegian Gold fish oils, it is enteric coated and contains lipase to enhance absorption and eliminate "fishy burps".

Critical Omega delivers 840mg of omega-3 fatty acid (which includes 490mg of EPA and 240mg of DHA) in every capsule. It is formulated for those who are looking for a high potency fish oil for the maintenance of good health.

Features:

Ultragest Technology ensures superior absorption
Targeted Release ensures proper delivery of oils to the intestines for optimum digestion
3X better absorption
No after-taste or fishy repeat
100% Fish-derived Gel Caps
Molecular distillation
Norweigian Gold Fish Oils are sourced from sustainable wild and unthreatened fish that are found in cold, pristine waters and are naturally lower in environmental toxins such as: mercury, PCB's and pesticides.

Directions for Use: For the maintenance/support of good health and cognitive health take 1 capsule once daily. For the maintenance of cardiovascular health and reduction of serum  triglycerides/triacylglycerols take 1 capsule twice daily. For the promotion of healthy mood balance take 1 capsule 3 times daily

PLEASE NOTE: Even though Critical Omega contains orange flavour, it should not be chewed as the lipase can cause burning of the throat.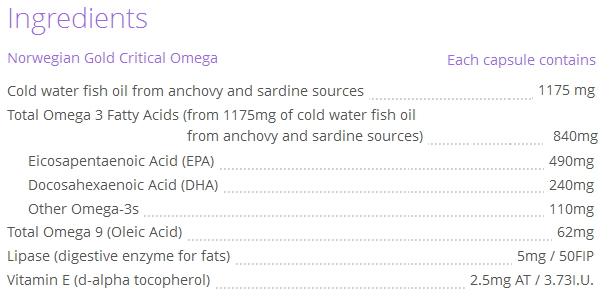 Non-medicinal Ingredients: Fish gelatin, glycerin, beeswax, natural orange flavour, lecithin (from sunflower seed oil), natural carob colour, caramel powder, aqueous enteric coating.

This product contains no PCBs, pesticides, heavy metals, dioxins, gluten, yeast, sugar, salt, dairy, eggs, nuts, wheat, corn, rye, preservatives or artificial ingredients. Renew Life does not use genetically modified ingredients. All ingredients are NON-GMO.
---