Progressive
Progressive - VegeGreens
Regular price
$39.99
$0.00
Unit price
per
Description:

Progressive VegeGreens Green Food Supplement is made from a blend of eight different families.  The eight families in VegeGreens are Plant Oils, Green Food Concentrates, Land Vegetables, Sea Vegetables, Cruciferous Vegetables, Phytonutrients, Herbs & Extracts, and Botanicals.

These distinctive blends supply an extraordinary spectrum of nutrients that can only be obtained by consuming the entire rainbow of vegetable colours. The power of VegeGreens comes from the numerous individual nutrients that each blend contains, as well as the synergy between the blends.

Benefits:

Increases energy & renews mental clarity
Helps to cleanse your body, strengthen immune function & balance pH
Supports your heart, liver and digestive health
Promotes clear, healthy skin
Acts as an anti-inflammatory
Features:
A combination of over 60 ingredients
Land, sea and cruciferous vegetables
Super green foods, plant oils, phytonutrients, herbs & extracts and botanicals
Nutrient equivalent of 6 to 8 servings of fresh vegetables
Naturally flavoured and sweetened
Professionally formulated and bioenergetically tested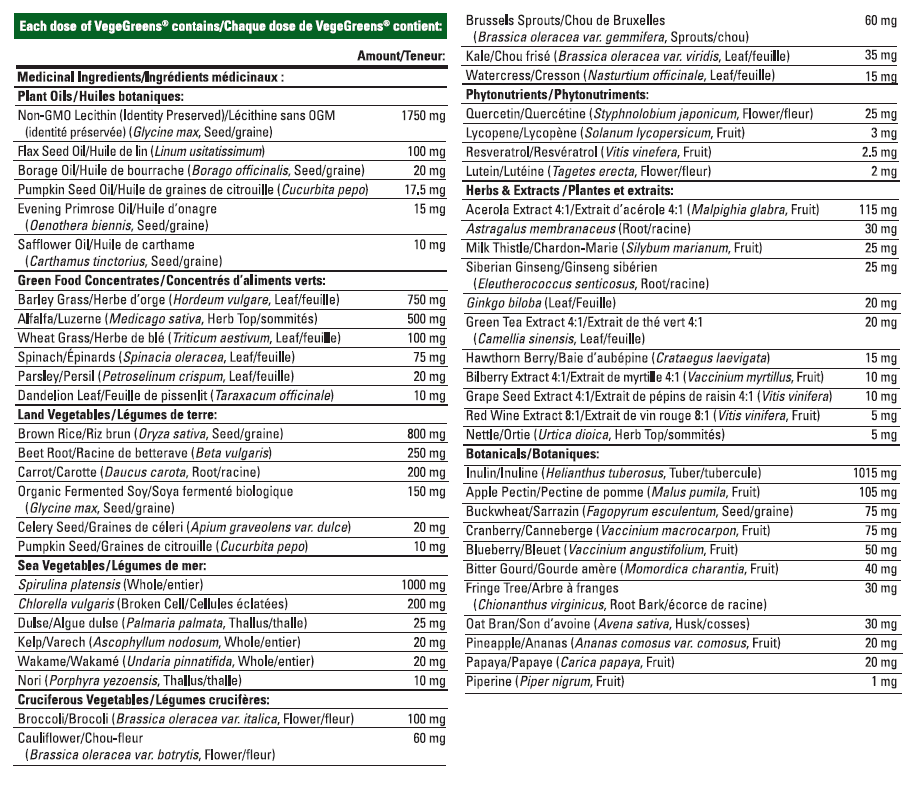 Non-Medicinal Ingredients:
Stevia Leaf Extract, Natural Flavours, Peppermint Leaf Powder (in the Cucumber Mint flavour), Citric Acid, Malic Acid.
---