Natures Plus
Natures Plus - Animal Parade - 90 Chewable tablets
Regular price
$36.99
$0.00
Unit price
per
Description:
For more than 20 years, the name Animal Parade® has stood for the ultimate in childrens nutritional supplements, with cutting-edge natural nutrition and the award-winning, delicious flavors and varieties that kids love! Now, for parents who wish to limit their childrens intake of sugar, NaturesPlus is proud to offer a new choice: Animal Parade SUGAR FREE, sweetened with tooth-friendly xylitol!

In delicious, natural fruity flavors all sugar free!, Animal Parade® Sugar Free Multi Chewables provide the protection and nutritional assurance parents seek for their children, plus the great taste and animal shapes that kids love. In addition to a broad complement of essential minerals, just two chewable tablets supply a wide array of essential vitamins, including 100% of the Daily Value DV for highly bioavailable vitamin D3, plus vitamins A, C, E, B12, B6 and other B vitamins.

In a base of natures most healthful whole foods, including spirulina, carrot, broccoli, whole brown rice and spinach, Animal Parade Sugar Free Multi Chewables feature the cutting-edge nutrition of our Organic Nutrient Source Whole Food Blend, with the immune-supporting phytonutrient benefits of eight different mushrooms, plus holy basil, lemon, guava and amla a source of naturally occurring B vitamins and Vitamin C.
Vegetarian
Gluten Free
Hypoallergenic
Sugar Free
Cherry, Orange and Grape Flavours
Suggested Use:
As a dietary supplement for children, two chewable tablets once daily.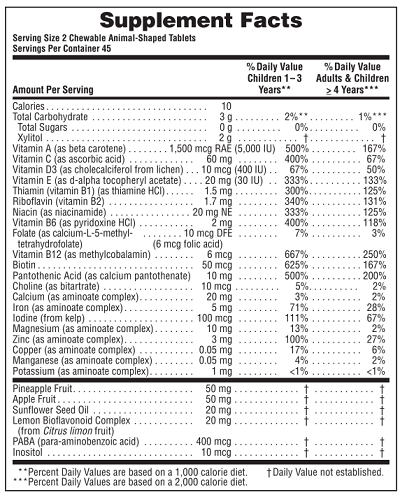 Non-medicinal ingredients: Xylitol; natural cherry, raspberry, orange and grape flavors; natural color (beet juice, annatto, curcumin, grape), vegetable cellulose, citric
acid, calcium carbonate, guar gum, magnesium stearate, magnesium oxide, stearic acid, ferrous fumarate, spirulina (naturally rich in essential nutrients), zinc
oxide, potassium citrate, rose hips (Rosa canina fruit), whole brown rice, papaya fruit, potassium iodide, West Indian cherry (Malpighia glabra fruit), carrot, mango
fruit, broccoli, spinach, Organic Nutrient Source Blend (wood ear mushroom [Auricularia auricu/al, CordysirnTM [Bionectria ochroleucal, maitake [Grifola frondosa], shiitake [Lentinu/a edodes], oyster mushroom [Pleuro- tus ostreatus, P. nebrodensis, P eryngiil, lion's mane [Hericium erinaceusl, amla [Emb/ica officinalis] berry, guava, holy basil [Ocimum tenuifloruml, lemon). Mineral aminoates are whole brown rice chelates.
---